So after working Open House for my college, on a saturday (blehh)...I went shopping with my baby!
I bought:
A new wallet! From Juicy Couture, courtesy sale of Nordstrom Rack.
It reads "Juicy Princess" :).
It's big, with a full change part...perfect.
"Charge It!" Lol. I love the rose on the front of it!
My baby bought me:
The top I wanted from Anthropologie.
It came wrapped like this...well, the sales lady did this...but it's cute! It's scented paper, smelled gooood.
I got an "Anthro" card. I guess it's like a rewards card?
The top part of the pretty top looks like this..."military" inspired.
This is it laying flat. It's super cute.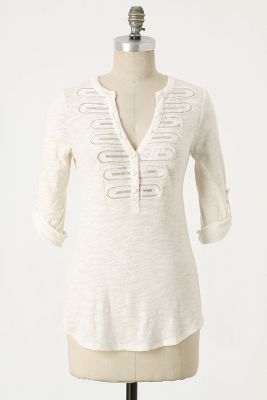 *Image courtesy of Anthropologie website*.
Blurry, but online it looks like this! (So you get an "on the body" impression of the look).
Thanks baby, I love you!!
And I hope you all enjoyed this blog post!
XO